In 2013, Kevin reached out to the Southern Minnesota Initiative Foundation (SMIF), whose mission includes helping new entrepreneurs.  Through SMIF, Kevin received mentoring and financial assistance to finally bring his business dreams into reality. The Blue Earth Valley Trading Company was featured in their 2014 annual report which can be found below.
-----------
Blue Earth Valley Trading Company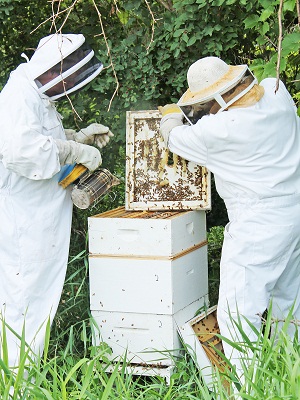 Three years ago, Kevin Mattick was unemployed and searching for a new project. Since his parents had maple trees on their lot in Mankato, he bought a stainless steel cooking pan and decided to process sap into syrup.
"I made one gallon and was hooked.  I have always enjoyed being outdoors for the adventure and watching wildlife," Kevin said.  In addition to producing maple syrup Kevin has also started working with honey bees.  "My dad was always interested in bees and encouraged me to have that as an alternate natural product to sell along with maple syrup.  I started with two hives the first year, four hives the second year, and twelve hives this year."
Most maple syrup producers come from a family of producers and learn the trade through legacy. Since Kevin is a first-generation producer, he attended Cornell Maple Camp, a four-day training course in upstate New York in 2012. Since then, he's filled in the gaps about both syrup production and honey collection with internet research to learn about processes and improvements.
"This business is so much like farming, in that the weather has such a big impact on producing maple syrup and honey.  How the weather affects the production is quite a learning experience and can be different every year," Kevin said. "And, of course, there is trial and error. I am a current member of the Minnesota Maple Association and attend their meetings, and the group has been beneficial in answering problems or questions that I have had."
Kevin connected with SMIF through the FEAST Local Foods Advisory committee—receiving mentoring, advice, and financial assistance.
"The process was so helpful; the initial meeting with the group of business professionals was amazing," Kevin said. "They offered all kinds of assistance for starting a business. One of the biggest helps was the guidance provided in establishing a business plan and then applying for a loan."
Blue Earth Valley Trading Company, LLC officially opened February 26, 2014. In the first few years as a casual producer, Kevin mostly sold his products to friends and family and through Facebook. Once he reaches the volume and consistency of having enough product available, Kevin hopes to sell to grocery stores. He is also planning to add by-products from maple syrup and honey to add diversification to his sales. His goal is to grow into a full-time business in approximately five years.
"If it wouldn't have been for the help from SMIF, I wouldn't be where I am now," Kevin said. "I had no idea where to start to put a business plan together or if this could be made a viable business. I didn't have the money to hire someone to guide me how to do a business plan, or to buy a software program.  I can't thank everyone involved enough!"
-----------
The original article can be found on SMIF's website HERE.